CONTROL YOUR STANK! Let's be real: Armpits. Can. Stank. But instead of showing them anger, show them love! FATCO's Stank Stop® Deodorant combines the antibacterial properties of Organic Coconut Oil with the odor-neutralizing power of Aluminum-Free Baking Soda to create this all-natural, Paleo-certified deodorant. We've also thrown in some Grass-Fed Tallow and Shea Butter to moisturize those pits and show them the love that they deserve! 
Paleo Certified, Certified Cruelty Free, Made in the USA and Made with Organic Ingredients.
Earn 5 FAT Bucks for every dollar spent.
Ingredients:
Cocos Nucifera (Coconut) Oil, Manihot Esculenta (Arrowroot) Powder, Tallow, Butyrospermum Parkii (Shea) Butter, Helianthus Annuus (Sunflower) Seed Wax, Beeswax, Sodium Bicarbonate, Zinc Oxide, Citrus Grandis (Grapefruit) Extract, Magnesium Hydroxide, Zingiber Officinale (Ginger) Root Oil

*Denotes an Organic Ingredient
Directions:
Using firm pressure, apply 2 swipes to the underarm region. Repeat on armpit #2. If your underarms are sensitive from razor burn, refrain from using until the following day.
Reviews
Customer Reviews
07/04/2020
Jeannie L.
United States
Fresh New Scent!
I've been using Stank Stop for years and decided to try this new scent, glad I did, it works great, and it's nice to have another fragrance option! Thanks for all you do to keep us healthy and stank free!
06/21/2020
Kelley
United States
Very fresh scent
After falling in love with the Rosemary, I wanted to try a more summer type of scent. It definitely surpassed my expectations! The grapefruit comes across light and refreshing and the ginger is very complimentary. I definitely will be adding this as a subscription. No irritation, no stank....definitely my fav deodorant ever!!!!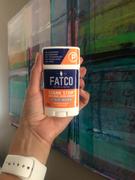 06/20/2020
Nikki D.
United States
Exceeed expectations
So I wanted to try this, love anything citrus. The shipping was super fast, and the product held up in travel tremendously. I put it on after my shower and my coconut oil routine, it made me smell like like a tropical goddess. The stick applies easily and non irritating. Omg I can't wait to try the rosemary scent too! Love Fatco!!!!
06/15/2020
Taylor D.
United States
Works great on my daughters stinky pits
This scent is AMAZING! It completely surpassed my expectations and I can't wait to order again!
06/10/2020
Cherie M.
United States
STANK STOP DEODORANT STICK
Love this product, we've been looking for a good deodorant that will work in the desert heat and I think we've found it!