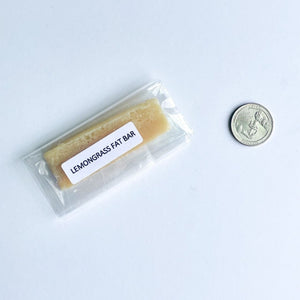 PEP UP, PRETTY!
Need a little pep in your morning prep? FATCO®'s Lemongrass Fat Bar will help you feel refreshed, recharged, and clean as a whistle. It's made from tallow, grass-fed beef fat, which is super rich in Vitamins A, D, K & E. Plus the rejuvenating addition of chlorophyll and lemongrass essential oil to help awaken the senses. It's the soap you can get excited about!
Paleo Certified, Certified Cruelty Free, Made in the USA and Made with Organic Ingredients.
Earn 5 FAT Bucks for every dollar spent.
Ingredients:Grass Fed Beef Tallow, Distilled Water, NaOH (lye), Sucrose, Colloidal Oats, Chlorophyll, Lemongrass Essential Oil.
Directions:Lather, Rinse & Repeat!
Reviews
Customer Reviews
10/08/2023
Sherry D.

United States
I recommend this product
Really wanted to like it
My grandmother use to make her own soap and this is what the bar smells like i.e. Lye. The essential oil isn't strong enough to mask the unpleasant scent of the lye. Also the bar is huge. Pro or a con depending on your view but it's hard to roll around in your hands to get lather when it's a fairly new bar. I don't like how it leaves my facial skin so tight after using it. Feels like it is stripping all the moisture. Won't order it again for the price
03/28/2023
Rina D.

United States
I recommend this product
Lemon scent
This soap smells so refreshing, such a nice wake up in the shower and leaves my skin so silky!
08/11/2022
Carrie H.

United States
I recommend this product
Love the lemon grass
I have very sensitive skin. I was thrilled this soap was a mild and effective cleanser! The scent is lovely.