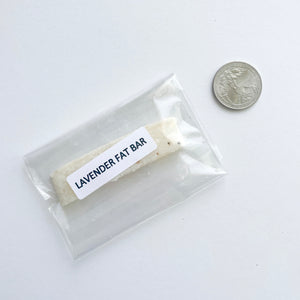 SHHH, SETTLE DOWN.
It's time to relax and wash away all your worries. FATCO®'s Lavender Fat Bar is made with nutrient-rich, grass-fed tallow, plus soothing lavender and colloidal oatmeal. It's a pure and simple soap for a pure and simple shower. Hydrate, enrich and unwind with a bar made from beef fat. Take a deep breath and lather up.
Paleo Certified, Certified Cruelty Free, Made in the USA and Made with Organic Ingredients.
Earn 5 FAT Bucks for every dollar spent.
Ingredients: Grass-Fed Beef Tallow, Sodium Hydroxide (Lye), Distilled Water, Sucrose, Sodium Lactate, Kaolin Clay, Colloidal Oats, Lavender Essential Oil.
Instructions: Lather, Rinse, Repeat!

Reviews